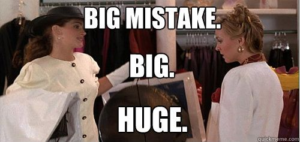 Here's why and here's what to do about it…
The fourth quarter of the year is often a very busy time for our industry as research buyers need to spend their research budgets by December 31st… or risk losing some of those dollars the following year. And as the firms in our industry (MR agencies, panel companies, etc.) get very busy supporting those buyers, they too often ignore other elements of their business… especially marketing. Big mistake. Big. Huge.
When marketing in Q4 is ignored because "we're just too busy," two significant problems arise:
First, it feeds the feast-or-famine cycle. So, when the feast of Q4 ends (and no marketing has been done to prepare for afterwards), there is a huge letdown – the famine – in Q1. And then you start scrambling to try and make up for it. The fact is… you're not too busy in Q4, it's just not a priority for you. So, if you want the feast-or-famine to change, change your priorities.
Secondly, if you were ignoring marketing during Q4, it also means you're not preparing for next year. You're going into it with no strategy, no plan, and no tactics laid out. You're entering the new year with only 'hope' and 'luck.' And as the saying goes… 'Hope is not a strategy. Luck is not a plan.'
So, what's a busy (but not that busy) firm to do?
At the very least
Even for the busiest firms, there are five activities to employ – at a minimum – during Q4. They include…
Establish an active presence on LinkedIn. Post as often as you can – but no less than three times each week – on your company and personal LinkedIn profiles. And don't pitch! Share links to useful, helpful, relevant articles or news. Frequent posting supports awareness-building and the positioning of your firm in the marketplace.
Maintain communication with email marketing. Your email database not only includes your clients, but also former clients, sales prospects, former prospects, and industry friends. Start with them. Stay in touch with them. Share links to relevant information with them. These people are your 'core' and should be your #1 priority… so staying in touch with them is critical. Start with a monthly frequency. Email marketing supports awareness-building and [limited] lead generation.
Share what you know through blogging. Writing blog posts serves several purposes. It allows you to showcase your subject matter expertise (SME) or thought-leadership ideas. It's a 'proof source' to support your selling efforts. And it gives you something to post about on LinkedIn and include in your emails… other than sales pitches. It costs nothing, you can write about virtually anything (as long as your readers find it interesting or helpful), and you can get your entire company involved. Blogging supports positioning and (when properly promoted) awareness-building.
Get involved in industry events. Whether you exhibit or speak or network (or do all three), participating in industry events is vitally important… even during the busy fourth quarter. And there are some big events at this time of year… TMRE, Succeet, CRC, and many more. Participating in industry events supports awareness-building and is likely your best source for lead generation.
Do some basic planning for 2024. Even if you're not a marketer or experienced at creating a marketing plan, use these four steps to cover the fundamentals.
Think about what you want to do. That is, your strategy. This could include objectives like building awareness, generating sales leads, or breaking into a new vertical market.
Then lay out how you'll support those strategies. That is, your tactics. Certainly, include the four listed above, but it could also include things like doing some LinkedIn advertising, putting on a series of webinars or creating an eBook.
Next, create a calendar of all the activities you want to use. The calendar has two purposes… to help you plan out the implementation of your marketing and to make sure that nothing falls through the cracks.
Finally, track and measure what you do to figure out what works and what doesn't. Then learn from the results to get better in the future.
Bottom line
Don't fall into the "we're too busy right now for marketing" trap this quarter (or any quarter, for that matter). To have an impact on your business, marketing should be frequent and consistent… or as one of my clients likes to say, "Always on!"
You can avoid the feast-or-famine trap and go into 2024 firing on all cylinders when you commit to a modest amount of marketing activity in the fourth quarter of this year.
Good luck!