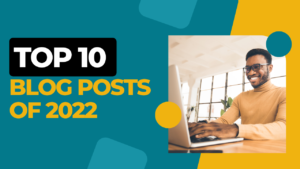 Over the past year, our blog posts were read thousands of times. To all of you who stopped by to take a peek… thank you. We hope you found the articles to be interesting, helpful and maybe even a little inspirational.
Secondly, our blog now houses more than 500 articles on sales and marketing (this is actually #521), all related to growing your business in our industry. And the fact is, if you keep reading them… we'll keep writing them.
As a way to showcase the topics of most interest to the marketplace, below is our annual Top 10 Blog Posts list. But this isn't just the most read articles that we published in 2022… it's the articles that were the most read in 2022, regardless of when they were published. So, as you scroll thought the list, you'll see that 5 of the posts are from this past year… and 5 are older and still found to be very relevant.
So, without further ado… here are the Top 10 Blog Posts that were read most often by our readers in 2022 (just click on a title to link to that article)…
#10. 8 Last-Minute Ideas for Your 2022 Sales & Marketing Plan
Published: January 2022
Is your annual sales & marketing plan done? If your firm is like a lot of others, you might still be wrapping it up. And even if it is done, it's supposed to be a living document… to be updated/changed as the year progresses. In either case, I wanted to share a few last-minute tactical ideas for you to consider adding to your plan.
#9. A Capabilities Presentation Is a Waste of Time
Published: September 2022
I was having a conversation last week with two senior-level contacts at a client (a large MR agency) about their capabilities presentation. We were talking about some ways to improve their current presentation, when one of them interjected, "We're trying to do less presentations and have more conversations." I just about jumped out of my seat! Finally… somebody that gets it!
#8. 8 Ways to Leverage Existing Relationships to Grow Revenue
Published: March 2019
How many clients and potential clients do you know? Consider all of your current clients and prospects, all of your past clients and prospects (those old names in your CRM), everyone you've ever chatted with at an industry conference or networking event, people you've connected with on LinkedIn and so on and so on. I'll bet if you add all of those up, it's a pretty impressive number. Great! So, what are you doing with all of those 'relationships?'
#7. The Sales Trifecta… The Core of Your Selling Efforts
Published: October 2021
Last week, I wrote a blog post about the Marketing Trifecta… the three fundamental marketing things you need to do to help grow your firm. In this post, I want to talk about the Sales Trifecta… yep, you guessed it – the 3 selling things you must do if you have sales responsibilities for your firm.
#6. What Should You Post on LinkedIn? Hint: It's Not About You!
Published: March 2022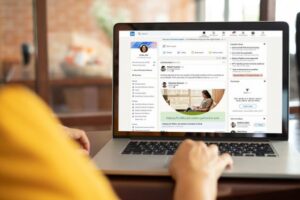 When you look at the LinkedIn posts made by most professionals and most firms in our industry, they generally fall into three categories: Promoting their content – a recent blog or an invitation to a webinar; Office news – a company anniversary the hiring of a new employee; Or a sales pitch! It's time to get beyond that…
#5. Why the Seller-Doer Model is So Challenging
Published: April 2019
Does your firm subscribe to the seller-doer model for business development? That is, are there leaders and managers in your firm who, in addition to their primary roles, are also tasked with responsibility for revenue growth? If you answered 'yes,' then your firm is like the vast majority of others… the seller-doer model is, by far, the most prevalent sales structure in professional services industries like ours.
#4. Is Your Work Good Enough to Ensure Repeat Clients?
Published: October 2022
If you were to ask 10 market research business owners what keeps their repeat clients coming back, nine of those 10 will say, "It's because of the good work we do." Spoiler alert: It's not!
#3. Networking at a Conference? You Can't Just Show Up!
Published: August 2022
The Fall season of industry events is upon us… the ESOMAR Congress, TMRE, the Corporate Researchers Conference and others. And if you're planning on attending any of these… ARE YOU READY? Attending a conference to learn – and, more importantly – to network, should not be taken lightly. So, to help you get the most from your investment of time and money, here are 18 conference networking tips…
#2. 3 Examples of Really Bad Selling to Stop in 2022
Published: December 2021
I guess I'm just a magnet for lousy salespeople… I get exposed to horrible selling almost every day. So, I started keeping a file of examples of this behavior and here are three real instances that happened to me just this month.
And the #1 most-read blog post in 2022 is actually from 2015! Enjoy…
Are You Setting Your Goals the Right Way? Think "Actionable Goals."
Published: November 2015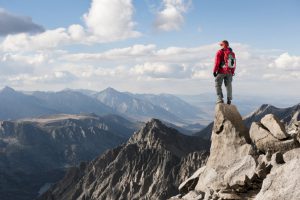 At our first corporate retreat a couple of weeks ago, setting goals for the coming year (and beyond) was one of the things I focused on. But I went about the process a little differently. Let me explain…
Bottom Line
I like wrapping up the year with the annual Top 10 Blog Posts article. It helps me stay on top of the topics that are of most interest to our readers… and provides some direction in helping me to create new topics to write about in the coming year.
So, as we move into 2023, I have two simple requests:
If you like what you're reading here, please subscribe to our newsletter, News You Can Use. Then, every month, you'll be notified of all of the latest blog posts that have been published.
If you have any suggestions for other sales or marketing topics you'd like us to write about next year, please share those ideas with me at Steve@HarpethMarketing.com and, if appropriate, I'll build them into our editorial calendar.
Thanks again for your interest in and support of our content… and Happy New Year!